I am a few weeks into my social media immersion. I have been a regular Facebook and intermittent Twitter user for a long time, but now my footprint is definitely bigger. For my major project, I was initially looking at 4 apps, but I dropped Duolingo to focus exclusively on photosharing apps. I have been using Instagram, Snapchat, and to a lesser degree, PicCollage. A couple of weeks ago, I came up with some guiding questions, which I have listed below. These have been the focus of the research I have been doing, as well as what I keep in my mind when interacting with and learning the ins and outs of the apps.
DIGITAL CITIZENSHIP
1) What does research say about photosharing apps and their value in educating students about digital citizenship and helping them to become positive, contributing digital citizens?
2) What do my observations of how this type of media is used and what I can do while using it, tell me about its value in teaching digital citizenship? Does it have educational value or potential rigour?
3) What privacy and usage considerations/implications do these apps present to students and teachers?
MEDIA LITERACY
1) Any app, but particularly those that rely on visuals, chats and quick captions, potentially require a different set of literacy skills to allow students to communicate effectively and to make meaning of what they see. Is any of this media calling on students to comprehend or communicate in ways we do not traditionally teach? Should this impact or shift our literacy instruction given how widely these apps are used? In what ways?
I have been reading articles on media literacy in addition to making my own notes about what skills I feel I have been using to read and make meaning of others' messages, as well as the thought processes I have been using before I make a post of my own. (Probably a lot more than any student ever does!!)  I also have been looking at some of the research done by Common Sense Media, Media Smarts and others with regard to digital citizenship and privacy.  In my next post, I will share some article links that I am finding most helpful.
I have a lot more to do – I still have more to explore with regard to pedagogy.  Right now, to be honest, I am swimming in a sea of information but hopefully, if I keep my eye on my guiding questions, I can bring it all together as I originally envisioned!  Stay tuned.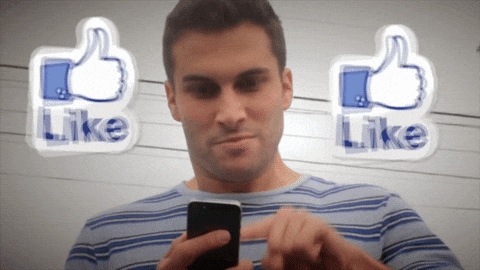 >via GIPHY