I have decided to do one last short post prior to posting about the culmination of everything to do with my final project.  I did not post previously about the very extensive work I did around the privacy policies and terms of service agreements for Snapchat and Instagram, and I really think this deserves a post of its own.
I did a deep dive into the actual posted agreements/policies of each of these apps as well as examining many articles, guides and "what you should know" documents to try and get the best overall picture of what the implications of these apps might be for use within schools.  I came up with a document I am calling Photosharing Apps — Privacy and Usage Implications for Schools.  In it, I have tried to outline some things for teachers, schools and even school divisions to give serious thought to when considering these for classroom use.  Beyond the obvious, there are some things we should be very mindful of concerning student information and privacy.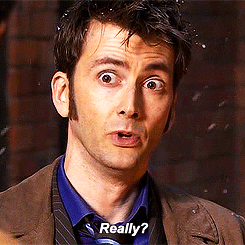 >via GIPHY
For both apps, a few examples:
Although users own their own content, simply posting it grants both companies a worldwide, royalty-free, sublicensable and transferable license to host, store, use, display, reproduce, modify, adapt, edit, publish and distribute that content.  Does everyone know this?  Do our students?
Snapchat stores its information on U.S. servers.  Instagram stores theirs in the U.S. or any other country in which it hosts servers.  Some school divisions have policies in which they do not subscribe to services where student information is stored out of country.   Just something to make sure of before going ahead.
Both companies get from and provide user information to third-party sources. This is for various reasons including behavioural ad targeting which some experts warn against in an educational setting.  It is important to know where student information could be going and for what purposes.
All in all, I don't think we need to be scared away from these apps.  They have a lot to offer in terms of teaching digital citizenship skills to our students in an authentic environment, as these are they types of tools they are engaging with daily in their personal lives.  As well, we can use these, as I have discussed before, to look at literacy skills and how we are enabling students to become more media literate.  However, we are not doing our due diligence if we skim past the underlying implications of what using these apps means for teachers, our school divisions and most of all, the safety of our students.
If we are careful, digitally-literate citizens ourselves, we will make good decisions for our classrooms and our students.

https://pixabay.com/photo-1917737/